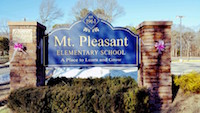 The Mt. Pleasant Elementary School PTA welcomes you!
On this page you will find important dates, news, and contact information for the PTA Executive Board and Committee Chairs.
Please join our email mailing list via the link on the Left.
Registering on this site will enable you to contact Board members and Committee Chairs via email directly from this site- if you choose to register, please be sure to also join the email mailing list!
A list of PTA meeting dates is included in the 'important dates' portion of this website. Please join us to hear about the various activities and programs run by the PTA, obtain valuable school information, and to find out how you can get involved!
Come join us and make MTP that much more special! Building Character. One Child At A Time...