https://mtp.memberhub.com/store
---
Please consider joining the MTP PTA!
The more members and support we have, the more quality educational programs we can provide to MTP students and faculty!
* * * * * *
There are PERKS to your membership as well!
2021-22 MTP PTA Members will receive a 15% discount off any labor when they show their PTA Card at Perpetual Auto Care, located at 779B Middle Country Road, St. James.
Upcoming prize drawings for PTA members include:
- A free oil change and safety check for a lucky MTP Teacher!
- Dance school swag and gift certificate to Dance Arts Development Center, located at 556 North Country Road St. James!
* * * * * *
You can join online using the memberhub link:
https://mtp.memberhub.com/store
You can join by returning the slip (below) with dues to school!
If you have any questions, please contact Lisa at lisadell2@aol.com
Thank you so much for your support!
Reminder: We ask that you please join the PTA for the current school year in order to be a class parent and/or volunteer at school events.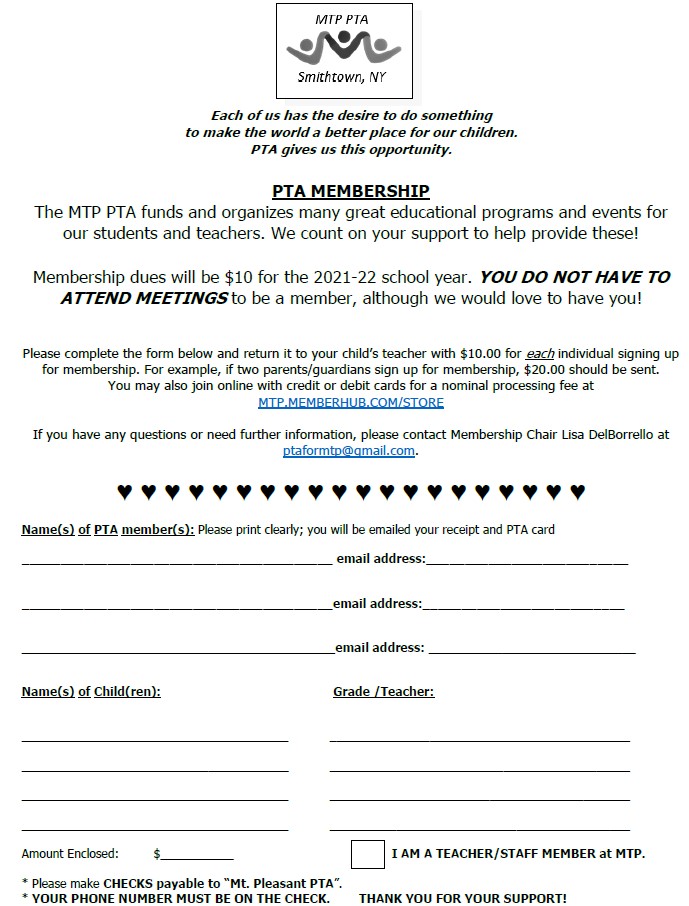 ---
How your membership helps:
https://nyspta.org/home/membership/
NYS PTA is the oldest and largest volunteer organization supporting children, proudly serving New York's children and families for more than 120 years.

Each local PTA unit is an independent association that collaborates with its school, planning programs and activities to meet the needs of the children and youth in its community.

PTA is a 501(c)(3) organization – a not-for-profit organization operated exclusively for educational and charitable purposes. As FYI – PTA is nonsectarian, noncommercial and nonpartisan.

Did you know that when you join a PTA, you immediately become a member of both NYS PTA and National PTA as well as your local PTA unit? PTA members can attend conventions, workshops and leadership training opportunities. Structure is important, as each unit, council and region PTA has bylaws, elected officers and committees.

Experienced PTA leaders who volunteer at the region, state and National PTA levels provide support, encouragement, advice, programs, educational materials, publications, conferences, workshops and leadership training.

PTA members are advocates for the well-being of children and youth, and PTA unit activities should always maintain this focus.